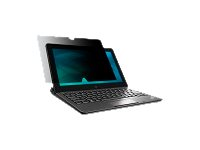 3M - Notebookpersonvernsfilter
4-veis - 11.6" - for ThinkPad Helix (2nd Gen) 20CG, 20CH
Informasjon

4-way privacy provides protection in landscape and portrait modes-360 degree protection
2-way privacy filter provides protection when using the tablet in landscape mode
Maintains high clarity
Residue-free removal
Touchscreen functionality
Easy to apply and remove

The four-way privacy filter for ThinkPad Helix utilizes the 3M microlouvre privacy technology to dim the screen and block the vision of wandering eyes from four directions: above and below the tablet, and from both sides. It also guards your screen from scratches and smears. The two-way filter provides privacy from left-right while the tablet is being used in landscape mode. Unlike other generic filters in the marketplace, the Lenovo privacy filter is made specifically for Lenovo products with unique cut-outs specific to the ThinkPad Helix, making it the only product in the marketplace suitable for this tablet.