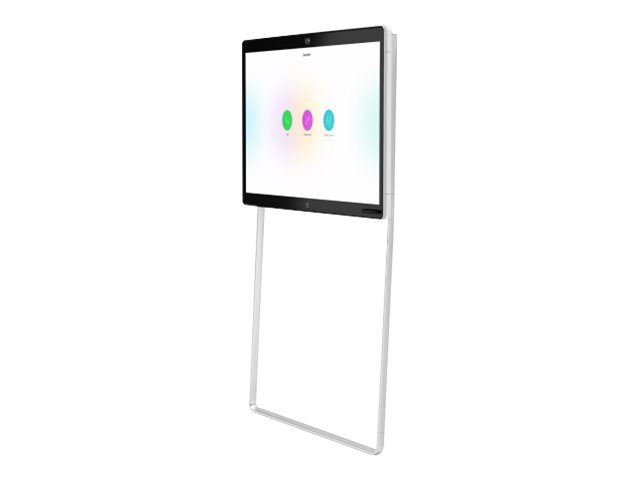 Cisco Spark Board 55
Stativ - for videokonferansesystem - skjermstørrelse: 55" - veggmonterbar - for Cisco Spark Board 55
Informasjon

No wires required to share a presentation, locally or remotely, from a laptop
Easily white board with the Cisco Spark Pen or your finger on the Cisco Spark Board and automatically save content to a Cisco Spark space
Connects to white-boarding capability on any Cisco Spark app-enabled device
Annotate on screen share
High-quality video conferencing
High-fidelity audio conferencing
Discreet built-in 4K camera is unintimidating, to help users feel comfortable when close to the screen
Built-in microphones and wireless sharing add to the clean, no-wire aesthetics
Fixed-lens camera uses an 86-degree-wide field of view to capture virtually the entire room
High-resolution 4K screen shows detailed content beautifully
Easy-to-understand activity circles correspond to the basic activities and workflows that users need to get their work done
Intuitive navigation, such as a home button and touchscreen, is a staple of mobile devices and familiar to users
Consistent user interface and workflow across the Cisco Spark Board and Cisco Spark app reduce the user's learning curve
Familiar capacitive touch capability is the same as on smartphones and tablets, and allows for two-point multi-touch, which lets two people work on the board at the same time
Cloud registration lets everything created on the Cisco Spark Board be stored directly and securely in the cloud and associated to a virtual Cisco Spark space
Team members can pick up wherever they left off on the Cisco Spark Board when they leave the physical room; work can continue from a different location, time zone, or device, such as another Cisco Spark Board or any other Cisco Spark app-enabled devices (smartphones, tablets, laptops)
Cisco Spark Board and the Cisco Spark service together provide end-to-end encryption, so your communications and content are secure
Powerful 4K camera captures high-resolution image of virtually the entire room
Intelligent software algorithms enable automatic framing for best overview, which provides ideal framing to the far end
Built-in 12-microphone array amplifies sound quality - as if a microphone has been extended to each speaker
Automatically modulates the active speaker so that clear audio is delivered to the far end, whether the speaker is close to or far away from the Cisco Spark Board
No microphone wires to detract from the aesthetics of the Cisco Spark Board
Powerful microphones cover a room with 8 to 10 people

The Cisco Spark Board revolutionizes the way we work by combining key requirements for team collaboration in the physical meeting room into a single device and connects it to the cloud for continuous workflow. It's a wireless presentation screen, a digital whiteboard, and an audio and video conferencing system, all in one. The Cisco Spark Board helps teams collaborate in physical meeting rooms, but also securely connects to virtual meeting spaces to facilitate continuous workflow before, during, and after everyone has left the physical conference room. The Cisco Spark Board draws its power from the Cisco Spark service, which combines meeting, messaging, calling, and white boarding capabilities on any Cisco Spark app-enabled device. Registration to the Cisco Collaboration Cloud lets you store everything created on the Cisco Spark Board directly in the cloud and associate it to a virtual Cisco Spark space, so you can take your work wherever you go. The Cisco Spark Board solution offers an integrated, secure, and comprehensive lifecycle approach to teamwork that is as yet unimagined, and thus unmatched, by any other solution on the market.

The Cisco Spark Board 55 is a fully self-contained system on a high-resolution 4K 55-inch LED screen. With an integrated 4K camera, embedded microphones, and a capacitive touch interface, the board brings intelligence, style, and usability to meeting rooms, from small to large. Designed with minimal wires for simplicity and elegance, Cisco's latest collaboration device allows wireless sharing and Wi-Fi connectivity. The system is also touch-based for easy and rich team collaboration. Not only is the Cisco Spark Board beautiful to behold and effortless to use, it is also affordable to acquire and easy to install and deploy, so that it can be a fixture in all of your conference rooms.