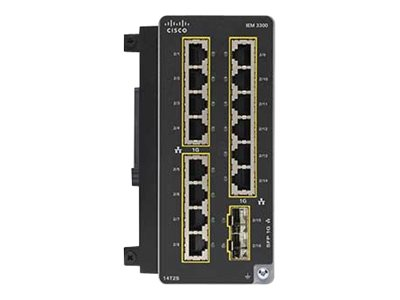 Cisco Catalyst - Utvidelsesmodul
Gigabit Ethernet x 14 + SFP (mini-GBIC) x 2 - for Catalyst IE3300 Rugged Series
Informasjon

Built for harsh environments and temperature ranges (-40°C to +75°C)
Fanless, convection-cooled with no moving parts for extended durability
Hardened for vibration, shock and surge, and electrical noise immunity
Complies with multi-industry specifications for automation, ITS, and substation environments
Improves uptime, performance, and safety of industrial systems and equipment
Covers a wide range of Power over Ethernet (PoE) application requirements
Alarm I/O for monitoring and signaling to external equipment
Provides secure access for new high-speed applications in the industrial space
Expandable to 26 ports of GE by attaching one of 10 compatible modules
Connects high-speed wireless access points (802.11n, 802.11ac)
Enables High-Definition (HD) IP cameras and Programmable Logic Controllers (PLC)
Supports delay-sensitive applications and time-sensitive networks
Delivers multiple rings and redundant ring topology for new network configurations
Extends geographical scalability where longer-distance connectivity is required
Controls costs by limiting wiring, distribution panels, and circuit breakers
Reduces equipment needs, thus requiring less space and reducing heat dissipation
Enables ready-to-use PoE devices, such as IP phones, cameras, and wireless access points
Allows for easy configuration and monitoring
Eliminates the need for more complex terminal emulation programs
Reduces the cost of deployment
True zero-configuration and simple switch replacement in case of a failure
No networking expertise required
Helps ensure fast recovery
Provides enhanced flow and threat visibility
Enables optimization of the network infrastructure, reduces operation costs, and improves capacity planning and security incident detection

The Cisco Catalyst IE3300 Rugged series switches deliver advanced, high-speed Gigabit Ethernet connectivity in a compact form factor, and are designed for a wide range of industrial applications where hardened products are required. The modular design of the Cisco Catalyst IE3300 Rugged series offers the flexibility to expand up to 26 ports of Gigabit Ethernet with a range of expansion module options. The platform is built to withstand harsh environments in manufacturing, energy, transportation, mining, smart cities, and oil and gas. The IE3400 platform is also ideal for extended enterprise deployments in outdoor spaces, warehouses, and distribution centers.

The IE3300 series runs Cisco IOS XE, a next-generation operating system with built-in security and trust, featuring secure boot, image signing, and the Cisco Trust anchor module. Cisco IOS XE also provides API-driven configuration with open APIs and data models.

The Cisco Catalyst IE3300 Rugged Series can be managed with powerful management tools such as Cisco DNA Center and Industrial Network Director, and can be easily set up with a completely redesigned, user-friendly, modern GUI tool called WebUI. The platform also supports Full Flexible NetFlow (FNF) for real-time visibility into traffic patterns and threat analysis with Cisco Stealthwatch.