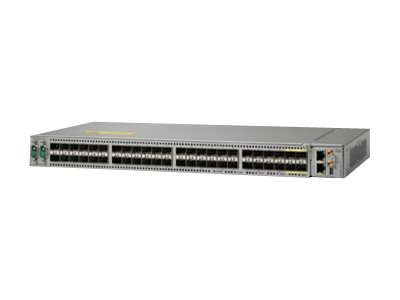 Cisco ASR 9000v - Utvidelsesmodul
GigE - 44 porter + 4 x SFP+
Informasjon

Feature alignment
Flexible topologies
Service scale
Ease of management
Ultra-low power and footprint
Environmentally hardened design
Front access
Ease of EMS and NMS integration
ACT support

The Cisco ASR 9000v employs the Cisco ASR 9000 series Network Virtualization (nV) technology. The nV technology revolutionizes networks by integrating access and edge into one nV system. The Cisco ASR 9000v operates as an extension shelf of the Cisco ASR 9000 series Aggregation Services Routers, providing delivery of Cisco ASR 9000 services from the ASR 9000v. This nV technology dramatically lowers operational costs by simplifying the access and edge network, and delivers tremendous service and network scale through the use of the Cisco ASR 9000 distributed control plane and feature processing.

Deployed adjacent to, or remotely from, its Cisco ASR 9000 host, the environmentally hardened, front-access, low-power, ultra-compact Cisco ASR 9000v delivers ASR 9000 services and scale at locations that are otherwise unachievable by either an access system or an edge system. Because the nV technology extends the ASR 9000 control plane and management interface over a fabric port that incorporates the ASR 9000v as a component of the ASR 9000 host, installation, turn-up, Element Management System (EMS) and Network Management System (NMS) integration, and service activation can be accomplished in a matter of minutes.