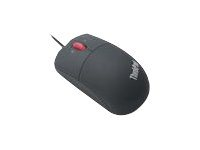 Lenovo ThinkPad - Mus
laser - 3 knapper - kablet - USB - beksvart - for ThinkBook 15 G2 ITL; ThinkCentre M70; M90; ThinkPad E14 Gen 2; V30a-22; V30a-24; V50t-13
Informasjon

Integrated wheel scrolling device
Works on many surfaces, no mouse pad required
Full-size shape that fits comfortably in either hand
Scroll wheel also acts as programmable third mouse button
1600 dpi resolution
Compliant with USB 2.0 (Universal Serial Bus) specifications
Exclusively contoured for both right and left-handed usage
Fully programmable tilt-wheel and buttons to adapt to the way you work

Experience the superior precision and performance of laser tracking technology. Delivering extraordinary control on virtually any surface, the ThinkPad USB Laser Mouse offers improved tracking accuracy and smoother navigation over traditional optical mice.

Scroll through documents, spreadsheets, and more with increased accuracy and precise control with this exclusively contoured and customizable three-button Laser Mouse. A 1600 dpi laser sensor and programmable tilt wheel with four-way scrolling offer unparalleled performance and reliability.