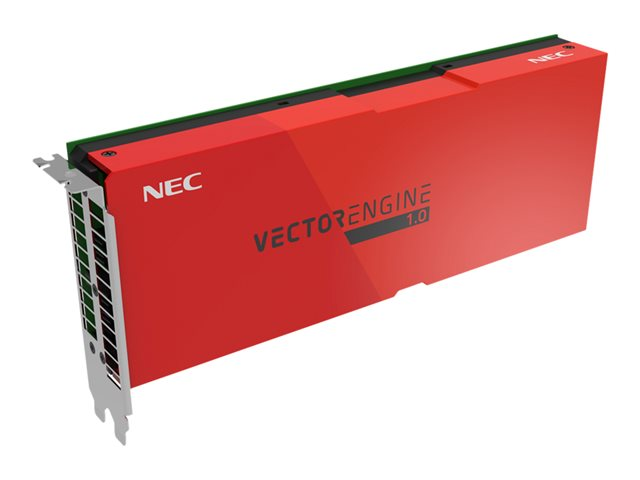 HPE NEC Vector Engine Accelerator Module
GPU-beregningsprosessor - NEC Vector Engine 1.0 Type 10B - 48 GB HBM2 - PCIe 3.0 x16 - uten vifte - for Nimble Storage dHCI Large Solution with HPE ProLiant DL380 Gen10; ProLiant DL380 Gen10
Produsent
Hewlett Packard Enterprise
Informasjon

Vector processor system in a PCIe form factor hosted by a standard x86 server running a Linux operating system as the user front end
Developed using 16nm FinFET process technology for extreme high performance and low power consumption
Exceptional integration of six HBM2 memory modules and vector processor using Chip-on-Wafer-on-Substrate technology, leading to an outstanding memory bandwidth of 1.2 TB/s

The NEC Vector Engine Accelerator with its unmatched memory bandwidth per core offers a balanced architecture for your Fortran and C/C++ codes to shine. Extremely large amounts of data can be processed per cycle thanks to the native vector architecture. Moreover, users can easily exploit these capabilities via a standard development environment leveraged from the past decades of the vector supercomputers era.