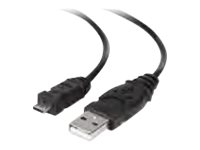 Belkin - USB-kabel - Micro-USB type B (hann) til USB (hann)
USB 2.0 - 90 cm - formstøpt, tilbaketrekkbar
Informasjon

Connect your smartphone to charge or Sync
Extends 80 cm for versatile use
Self-retracts for compact storage

Charge or Sync your smartphone, tablet, battery pack, Bluetooth Headset or numerous other mobile accessories by simply extending the cable and connecting to a charger with this versatile Micro USB cable. Perfect for use in car, at the wall or with a battery pack for true mobile power.

The retractable Micro USB cable increases your options thanks to an extendable cord that reaches up to 80 cm. Extend the cable only as much as you need keeping it compact and convenient.

The cable's cords self-retract in a slim housing unit for storage and easy portability and to reduce clutter, so you can take it with you wherever you travel. This convenient design eliminates tangled cords from getting in the way, so you can easily plug and unplug.