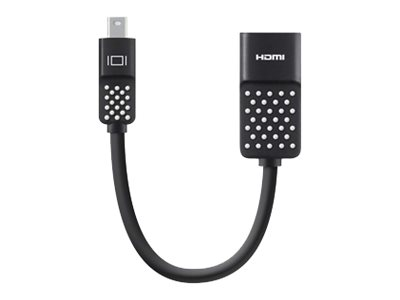 Belkin Mini DisplayPort to HDMI Adapter, 4k
Video adapter - Mini DisplayPort hann til HDMI hunn - 12.7 cm - 4K-støtte
Informasjon

Adapter transmits audio and video from mini DisplayPort to HDMI
Ideal for connecting laptops or tablets to an HDTV
Use for movies, presentations, workstations, and more
Compact, portable design
Requires separate HDMI cable

The Mini DisplayPort to HDTV Adapter lets you stream high-quality A/V content from your laptop or tablet to your HDTV. Use it in conjunction with an HDMI cable to watch movies, share photos, or expand your workstation with a mirrored desktop. The adapter offers molded-strain relief for flexibility at the connection points, reducing wear and tear from frequent use. A white label helps you identify which end is up for easy, quick insertion. The adapter is a pocket-sized, portable accessory for HDTV setups both at home and in the office. When used with an HDMI cable, the adapter offers plug-and-play capability that is ideal for presentations on the go.