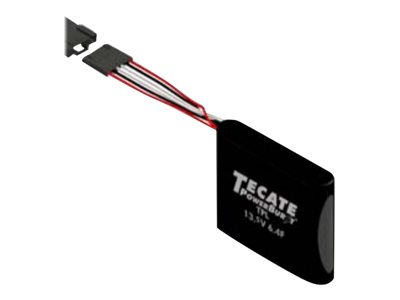 Broadcom CacheVault Flash Cache Protection Module
Cachedatavernmodul for RAID-kontroller - for MegaRAID SAS 9361-16i, SAS 9361-24i, SAS 9380-8i8e
Informasjon

Lower total cost of ownership (TCO) with CacheVault technology by reducing hardware maintenance and disposal issues associated with lithium-ion batteries
Battery backup units allow for higher ambient temperatures
Provides additional peace of mind for all MegaRAID controller cards
Enjoy configuration flexibility with many chassis mounting options
Receive longer life cache protection

RAID controller cards temporarily cache data from the host system until it is successfully written to the storage media. While cached, data can be lost if system power fails, jeopardizing the data's permanent integrity. RAID caching is a cost-effective way to improve I/O performance by writing data to a controller's cache before it is written to disk. However, in the event of a power or server failure, the writes in cache may be lost.

CacheVault flash cache protection modules and battery backup units (BBUs) protect the integrity of cached data by storing cached data in non-volatile flash cache storage or by providing battery power to the controller. CacheVault technology prevents data loss by powering critical components of the card long enough to automatically transfer the cached data to NAND flash. Once power returns, the data is restored to the cache and normal operation resumes. By using a super-capacitor instead of lithium-ion batteries, CacheVault technology virtually eliminates hardware maintenance costs associated with batteries, lowers total cost of ownership over the life of the controller card and provides more environmentally friendly cache protection, all while maintaining optimal RAID performance.